March BEMANI albums released
Four new BEMANI albums were released today in the latest bundle of albums to come from KONAMI's various rhythm games, with original soundtracks and an original album among them.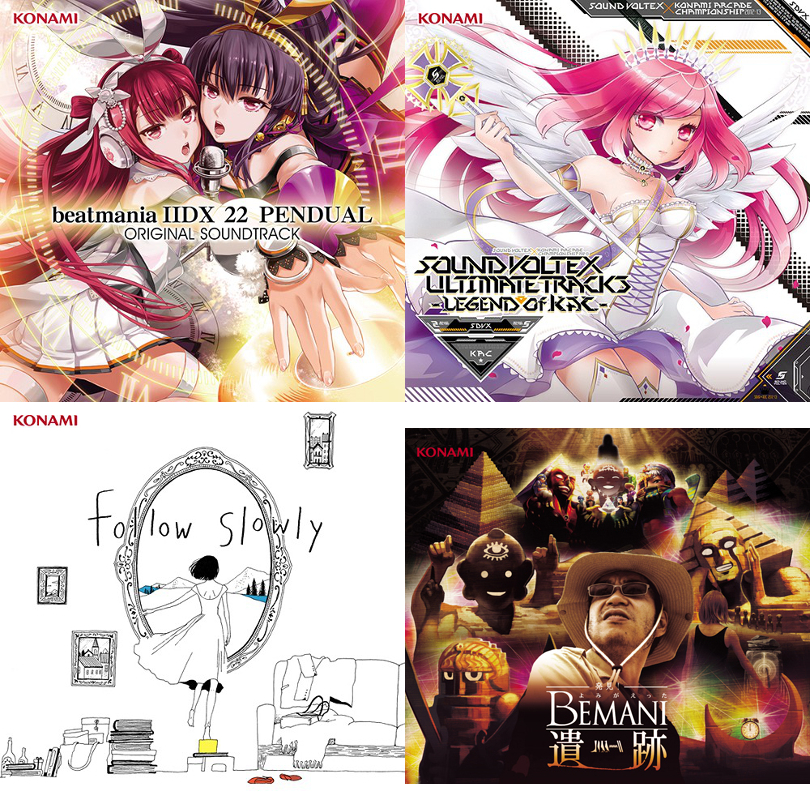 The latest iteration in the IIDX series, beatmania IIDX 22 PENDUAL receives its first soundtrack, released on two discs with a selection of extended tracks. The soundtrack does not include many of the recent event songs such as those of Chrono Seeker or Qpronicle Chord, but these may be expected in a future release as was the case with IIDX 20 SPADA.
SOUND VOLTEX ULTIMATE TRACKS -Legend of KAC- covers songs from the second arcade game in the series, also spanning two discs including extended tracks. A Konamistyle edition is also available with a special book and packaging.
Last year's Hakken! Yomigaetta BEMANI iseki event crossing most of KONAMI's rhythm games is finally seeing a CD release, containing the three tracks written by various teams of BEMANI composers and Sota Fujimori's BGM for the event.
Naoyuki Sato releases his fourth NekomataMaster alias album, follow slowly, covering his latest songs up to and including songs from beatmania IIDX 22 PENDUAL, and even including some songs not on the first soundtrack for PENDUAL. We'll soon be reviewing his discography along with this new album, so keep an eye out for that!
As with previous releases, many of these can be purchased in various bundles from Konamistyle with a bonus B2 sized poster.
Posted on March 4, 2015 by Christopher Huynh. Last modified on March 2, 2015.