John Kurlander Interview: Recording Engineer for The Beatles and The Lord of the Rings
John Kurlander is widely regarded as one of the finest recording engineers in the music industry. During his 40 year career, John has produced Grammy-winning recordings for popular artists,classical orchestras, and film and game soundtracks. Among his career highlights include debuting on The Beatles' Abbey Road, becoming Chief Engineer of EMI Classics and Abbey Road Studios, and leading the recording of The Lord of the Rings trilogy.
In this special interview opportunity, John recollects many of these incredible experiences and discusses why he is currently focusing on game soundtracks. Interestingly, he notes that the upper end of game soundtrack production doesn't just parallel, but often exceeds, today's film soundtrack production. He specifically recall his experiences on Assassin's Creed II, Star Wars: The Force Unleashed, Prototype, StarCraft II, and Christopher Tin's solo album Calling All Dawns.
Interview Credits
Interview Subject: John Kurlander
Interviewer: Chris Greening
Editor: Chris Greening
Coordination: Chris Greening
Interview Content
Chris: Welcome to the site, John Kurlander. Thanks for giving our readers the opportunity to learn more about the technology side of game music production. Could you first of all tell us about yourself and give an outline of your incredible career history.
John Kurlander: Hi Chris and thank you for this opportunity. I started as a "tea boy" at Abbey Road Studios in 1967 at the age of 16, straight from school in fact. After an initial training of three months I began to assist on some sessions, both pop and classical. At the beginning of 1969 I was approached by George Martin and Geoff Emerick to be the principal "tape op" or assistant engineer on the Beatles upcoming album, which was later to become known as "Abbey Road". This was an unbelievable experience and an amazing start so early in my career.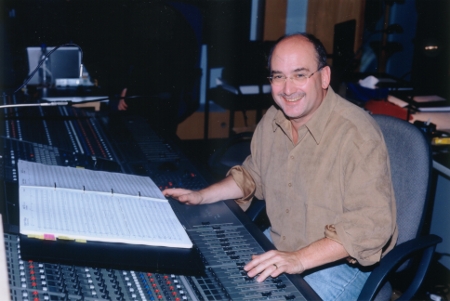 As a lover of both pop and classical music, the studios gave me the unparalleled chance to work in both, and by 1970 I was engineering. I later went on to specialise in orchestral recording for all genres and eventually resigned my position as Chief Recording Engineer in 1996 to move to the US in order to concentrate of film scoring.
Chris: For those who don't know, could you outline the roles of a recording engineer and mixer? Although a massive and specialized field, what are the major challenges and how do you overcome them?
John Kurlander: The recording engineer / mixer is responsible for session planning, room setup, mic selection, creating the sound recordings, and eventually refining and finalising those sounds in the mix. It's a truly wonderful job and just the chance to be working with so many talented musicians is a joy in itself. The best thing is that, as technologies and tastes are quickly updating and changing, no two recordings are the same, and it's a constantly evolving art. Having said that, many of the challenges and pitfalls can found can easily be avoided by doing lots of homework, research and forward planning. Especially on the large orchestral sessions where time, money and reputations are all on the line.
Chris: During your extensively career, you have worked on popular music, musicals, classical releases, and soundtrack recordings. How do these types of projects compare in terms of their demands for the recording engineer?
John Kurlander: Not really so different as you may think. However, most orchestral sessions as I stated need lots of forward preparation, whereas techniques for recording bands tend to much more made up and improvised on the sessions, and because of that it probably is better not to start off the sessions with too many preconceived notions or ideas. There is much more chance to be inventive, as almost everybody is looking for original new sounds. In orchestral recording, especially classical music, updated technologies are constantly coming along, to try and get closer to the elusive true audio reproduction.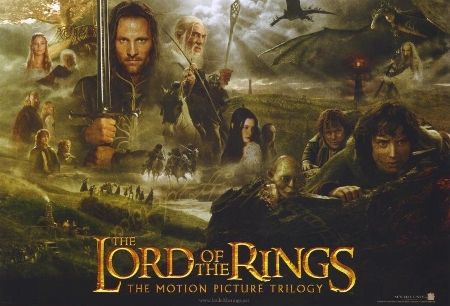 Chris: Since 1993, you've worked on close to 120 films as an engineer and mixer. What have you offered to the industry during these years? Was engineering the Lord of the Rings trilogy the biggest highlight for you or do you have fond memories of other projects too?
John Kurlander: Before getting into films I had being doing a lot of legit classical work in studios, churches, and concert halls all over the world. These experiences gave me a unique sound in my head of how an orchestra wants to sound and precisely how to go about achieving those results. On LOTR we needed to record in no fewer than four principal venues, one in Wellington, New Zealand and three in London, in some cases with different orchestral personnel. However, in order to allow for extensive editing between performances, the sound had to be 100% consistent between takes from all venues and the edits had to sound like a single performance — actually a single performance that was recorded over a time span of 3.5 years. I know for sure that the disciplines I'd learnt for classical work enabled me to meet those challenges.
I think it's fair to say I enjoy pretty much every project, because of working with such talented composers, crew, and musicians, the work is always fun. The sheer volume of work makes it really hard to single out some more than others.
Chris: Following these film works, you eventually entered the games industry. What inspired your decision to shift towards video games and how did you find it compared to film works? Were two of your initial projects, for Star Wars: Knights of the Old Republic II and Star Wars: The Force Unleashed, quite accommodating given they were scored in a similar way to the Star Wars movies?
John Kurlander: More recently film score composition have become increasingly influenced and indeed undermined by the director's use of temp scores. This is the use of previously recorded material placed initially as a guide for the film editor, but now has seemed to dominate the entire process of film composition. My first introduction to game music a few years back, KOTOR II, was a pleasant discovery that music was being written and recorded more in the manner of the earlier years of film and therefore interested me greatly. For instance, those Star Wars game scores I worked on could have featured an identical working practice and recording experience to the original film sessions back in the 80's.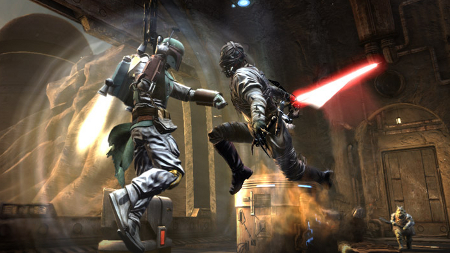 Chris: Talking in a more general sense, video game scores have certainly come a long way since their technologically primitive origins. What are your thoughts on this phenomenon? Is it becoming the standard for next-gen games to have their scores recorded with amazing orchestras and engineers, or is there still a large gap in quality compared to film music?
John Kurlander: I've been most fortunate to be offered work at the top end of game music so I'm seeing the really great orchestras and facilities being utilised. As a trend, I think that high end game scoring is actually on the rise as far as budgets are concerned, and unfortunately film scores are polarizing into the few huge mega budget productions, and a regrettably larger number of low budget sample-based scores. As for musicians and engineers, we all just loving making great music, and whether filmgoers or gamers hear it, it's all good.
Chris: As an interlude from soundtrack recordings, I'd like to reminisce slightly about your diverse projects otherwise. One of your early career highlights was assisting with The Beatles' final recording,Abbey Road. As a fellow Beatles fan, I'm very curious about your experiences with the four on the project. To what extent did you influence the production quality and orchestra use in the album? I read that you were also responsible for "Her Majesty" surprisingly closing the recording?
John Kurlander: As such a young assistant I can't really claim to have influenced them in any way at all! It was a wonderful period, but at the time, I just kept up real concentration on doing my job efficiently and not screwing up. In those days the chances of accidentally erasing a tape or damaging it by have it fly of the deck when spooling were quite real, so as long as I behaved myself in a professional manner everything was well.
Although I was aware of working on something extraordinary, I honestly never imagined I would still be answering questions about those days now 40 years later!! And yes, whilst assembling a rough a cut of the medley at the conclusion of the album, I did pick up the unwanted "Her Majesty" off the cutting room floor, so to speak, and tagged it "DNU" at the end of the album, where it surprisingly and most famously stayed.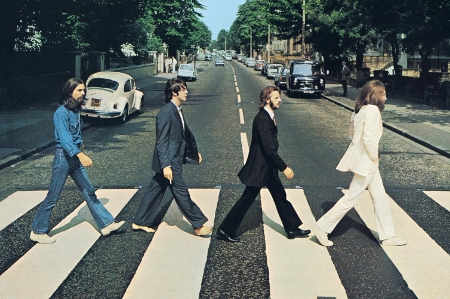 Chris: Some years later, you became known as the premier engineer for orchestral tracking for popular artists. How did you accommodate the challenge of integrating orchestral performances by the likes of London Philharmonic into pop and rock songs? Did you find any artists especially memorable to work with?
John Kurlander: The integration is really just a question of careful dynamics. In other words, the orchestral elements need to be compressed and equalised to match the tracks, but done in such a way that the illusion of orchestral grandeur and perspective is created.
Maybe bizarrely a session with Ozzy Osbourne and the Royal Philharmonic Orchestra doing an orchestral rock ballad was the most memorable day, especially as Ozzy was in all the newspapers only days earlier for biting the head off a live bat on stage. Also the sessions for Greg Lake's "I Believe in Father Christmas" — which was a rock fantasy based on Prokofiev's "Troika" — was unforgettable. There were several years at that time where all the biggest rock names from Elton John and Toto to Howard Jones were all trying to outdo themselves in orchestral might and power, and although in retrospect they were all somewhat Spinal Tap experiences, it was some of the my best days in the studios.
Chris: I also know you as the figure behind numerous classical recordings, mainly through following my cousin Simon Rattle and purchasing certain other EMI Classics recordings otherwise. I guess there would be more than enough content for three interviews on this subject, but I'm generally curious to know what it was like to work with so many eminent orchestras, conductors, and soloists. Of the hundreds recordings you have overseen, are there any particular standouts for you?
John Kurlander: The main thing about working with these artists is that they are consummate professionals — totally rehearsed and honed in their skills at the highest level. Most times the session would start at 10:00 AM with the conductor saying "the piece is already rehearsed and I'm ready to roll tape" (without any sound check). In those situations the engineers job is to be equally prepared and say "I'm ready to go".
My first ever classical recording was an LP of works of Frank Bridge by Sir Charles Groves and the Royal Liverpool Philharmonic (your hometown band!) in 1975. It was a nerve-wracking few days for me but it all turned out well. Another was the first recording with Eugene Ormandy, the long time maestro of the Philadelphia Orchestra where we recorded him for EMI in a new venue for the start of what turned into a 15 year recording contract with that orchestra. Again, it's almost impossible to pick just a few highlights from so many, but long relationships with Placido Domingo, Itzhak Perlman, Ricardo Muti and Bernard Haitink, and of course your cousin Simon really stand out!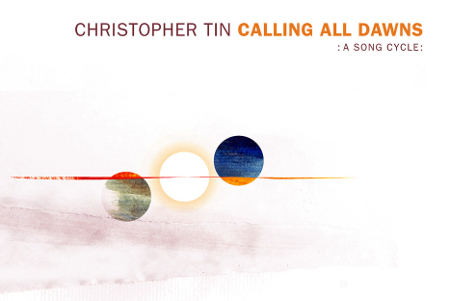 Chris: As a freelancer, you have also worked with a range of independent artists on classical and popular recordings. That brings us to the original reason we came in contact: Christopher Tin's debut album Calling All Dawns. Could you share readers with your experiences working with all sorts of musicians on this project? How was it to work with an upcoming talent such as Tin?
John Kurlander: I met Chris backstage at a Video Games Live concert in Los Angeles, and he asked me to return to Abbey Road with him to record the Royal Philharmonic Orchestra. His composition of "Baba Yetu" had been performed that night; actually it was the first time I'd heard the piece, and I was so impressed I immediately agreed to do the project.
After London, we held sessions in Hollywood adding all the ethnic and non-orchestral percussion, with a massive collection of drums, movers and shakers from all over the globe — as diverse as the album itself. Chris then traveled the world, for budget reasons, on his own, recording most of the vocal soloists, and on his return, we assembled everything and reunited in Santa Monica for the final edits, mix and mastering. At first I was totally surprised that I found a talent so deep and profound as Chris at a VGL concert, but later on reflection, indeed, why not?
Chris: Moving back to video games, you have recently worked with soloists and small ensembles for the big budget projects Prototype and Assassin's Creed II. What were your specific roles on these projects and how do you think it contributed to the overall experience? Given these scores were electronically manipulated after orchestral recordings, did you notice any significant differences on your side in terms of production approach?
John Kurlander: On Prototype I recorded the initial percussion recordings that were to be used as samples in Sascha Dikiciyan's toolkit of sounds. He and I spent a few days visiting and researching different studios in Hollywood that would offer the right kind of aggressive acoustic for the theme and mood of Prototype and came up with a very unusual room which was almost entirely bare concrete surfaces. It worked really well I thought.
On Assassin's Creed II, I was asked to record the strings, woodwind and choir at Capitol Studios. The choir was actually much smaller than needed and Jesper wanted to reinforce it with his sample choir tracks. As a solution, I decided to record the live singers with the identical 7-second reverb unit that he'd used on the samples, and so the blend between the two elements was really great and undetectable.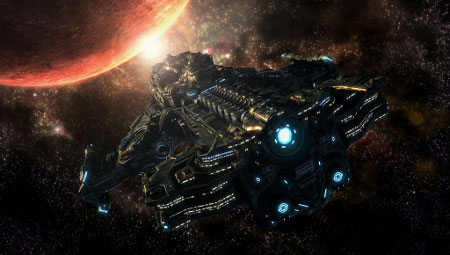 Chris: In addition, Blizzard fans around the world are excited to hear about the musical approach forStarCraft II. What should they expect from the project musically and technologically? Thanks partly to your work, do you think it could become the company's best-produced score to date?
John Kurlander: I really love working for Blizzard and, in particular, signing their extensive non-disclosure agreements! Understandably, they like to control the flow of all information leading up to a release, but I think I can safely say this: As far as epic is concerned, StarCraft II was the most exciting and largest scale orchestral sessions I've worked on this whole year, indeed, including movies… Watch out.
Chris: Finally, I am interested to learn about your plans to work in the video game industry in the future. Do you aim to work on more Western projects in future and would you also consider working with Japanese artists? More generally, how do you aim to take video game music productions to the next level?
John Kurlander: I'd love to do more game music. It feels like it takes me back a little closer to the "music only" work I was doing before film, and I really feel that the level of appreciation by the fans, even as demonstrated by the huge success of VGL worldwide, is really encouraging both composers and crew to advance this art form. Going forward, I welcome getting involved with some Japanese artists in the future.
To answer your question about going to the next level, I have to say that I think game scores are already standing up most favourably to many film scores. Maybe some further exploration into the field of 3D sound to match the images is what we might be looking at next. Thank you!
Chris: Thank you very much for your time and fascinating responses, John. It's been a real pleasure talking to you.
Posted on December 15, 2009 by Chris Greening. Last modified on March 2, 2014.