Hirofumi Matsuoka, ex-Falcom Sound Team leader, passes away
Hirofumi Matsuoka, a Falcom composer turned solo artist, has died. His sister announced on his blog that, after an eight month battle with stomach cancer, the artist passed away on October 20.
Born on December 8, 1968, Matsuoka joined the Falcom Sound Team jdk in 1992. Trained under Falcom veterans Mieko Ishikawa and Atsushi Shirakawa on RPG titles such as The Legend of Heroes III & IV, The Legend of Xanadu I & II, and Brandish 2, he became the second generation leader of the team in the mid-90s.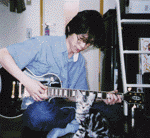 During this time, he facilitated the company's transition from using internal PC sound sources to external sound sources on various remakes and sequels for the Ys, Brandish, and The Legend of Heroes titles. He was also in charge of the company's MIDI Collection series of albums. Like his fellow sound team members, Matsuoka received little credit on Falcom's games and albums during his time there.
After leaving Falcom in 2000, Matsuoka pursued a career as a solo artist. In a project with singer-songwriter Yuuki Mizusawa, he independently published an original album and two mini-albums. More recently, he established the label and unit fermata with singer Momori. Filled with cheerful pop songs, their self-titled debut album premiered at the indie festival M3 in 2011.
The artist continued to collaborate with fellow Falcom alumnus Atsushi Shirakawa (aka TENMON) until his death and also regularly posted about his Falcom works. Having left a great legacy through his game and solo works alike, Hirofumi Matsuoka will be greatly missed. Our condolences to his friends and family.
Posted on November 4, 2015 by Chris Greening. Last modified on November 6, 2015.