Gyakuten Saiban Orchestra Concert: Tokyo, April 2008
On April 20, 2008 at Shinjuku Bunka Center, Tokyo, Capcom presented a 90 minute concert featuring orchestral performances of music from their Gyakuten Saiban / Ace Attorney series. After two years planning, tickets were sold out the day it was announced and there was a fantastic fan reaction during the concert itself. The music performed by the Tokyo Philharmonic Orchestra was a mixture of old and new, predominantly arranged by Noriyuki Iwadare. There was plenty of material taken from the Gyakuten Meets Orchestra CD released in 2006. I should add that I didn't take notes. My memory even now is getting hazier so forgive me with the CD and DVD releases in June and October if I've made mistakes.
The start of the concert was crazy. There was staff and security everywhere. The line to buy PW/AJ goods was so long — I had thought about queueing but the concert would have already started without me. Directly outside the hall there was a display of hand-drawn artwork by the PW creative team. Lots of people were snapping cell phone pics of those.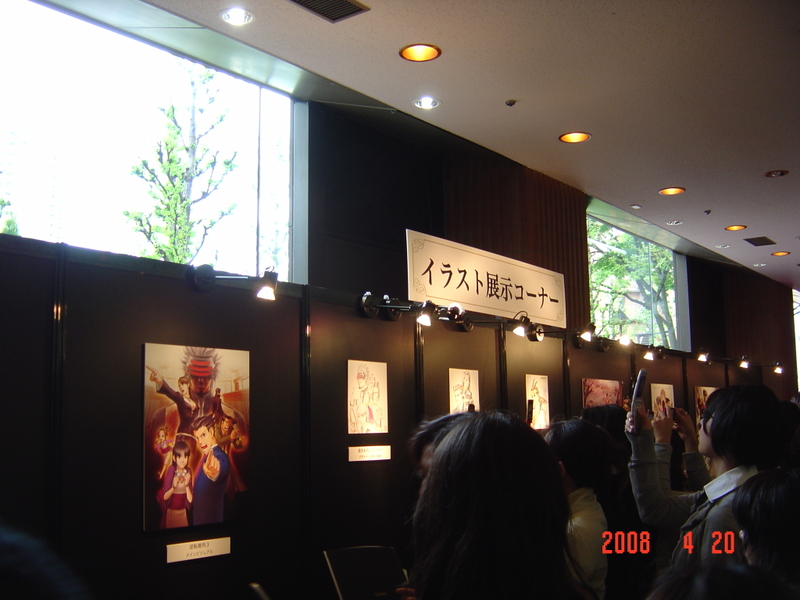 The beginning of the press conference started with a warning video on the screen. This was sooooo funny… No talking = Blue Badger holding an X sign in front of Wendy Oldbag yapping away. No cell phones = The X sign in front of Phoenix with cell on a couch with a screenshot is from the first case ofGyakuten Saiban 2. No food = An X in front of Victor Kudo throwing his pigeon food and Gyakuten Saiban's Ema eating her snacks. Everyone was laughing when Kudo was on the screen. I was too. They could have just shown a standard warning video, but instead they chose to go the extra mile and make it fun. I find that very cool.
During the conference itself, they show off sketches of the new game Gyakuten Kenji. The new director, character designer, and producer all come out with a few words. They showed a picture of Edgeworth at an aquarium leaning next to a dolphin. The announcer joked "Is he interviewing / interrogating the dolphin?" They showed a new female character. They were pretty tight-lipped about her role in the game. According to Nintendo Dream Magazine, she's 17 years old. Many people are assuming it's a love interest or sidekick for Miles. However, this is not certain yet. If she's the sidekick, what does that make Gumshoe?
They showed off the trailer for the new game. There were some cameos in here — I noticed Wendy Oldbag, Lotta Hart, and Franziscka while others noticed a young Ema and Cody Hackins. It seems this game is set some time before Gyakuten Saiban. If this game is set a short time after Gyakuten Saiban 3, Miles would be 27. That'd make the girl and him 10 years apart in age difference. Not that that means anything though… The last shot of the trailer was of Miles running and then huffing and puffing from exhaustion. They also had a fashion model/PW fan who dressed up like Mia on the stage. The Magatama bead necklace was somewhat hard to see though.
The concert opened with "Housouke Odoroki ~ A New Trial is in Session!". The "Gyakuten Saiban 1 – 3 ~ Courtroom Suite" followed and began with the entire Toccata and Fugue played on a real church organ. You may recall that this was the ringtone in the Game Boy Advance version of Gyakuten Saiban 2. Although this was cool, it just seemed like an odd addition, especially right before the medley and having the entire piece there instead of a snippet. The toupee toss was still greeted with some stifled laughter.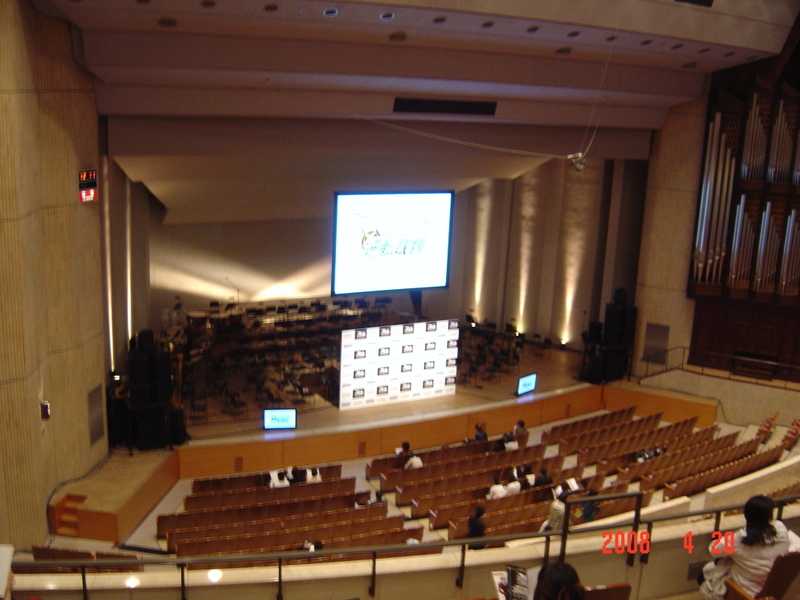 They used voice actors for the Judge, Miles, Phoenix, Apollo, and Klavier parts. Video introductions with Miles, Phoenix, and Judge in court arguing over music and songs or talking about the history of the game were mostly used to slyly segue into the next piece. "Toranosuke Shibakuzo ~ Swingin' Zenitora" was similar to what is on the Gyakuten Meets Jazz Soul CD. However, just to hear it live just made it so much more special. I liked "Reiji Mitsurugi ~ Great Revival" theme a lot. Trumpets seemed like the prominent instruments here. They were sort of blasting regally, and it gave this piece a proud march-like quality.
The "Villain Suite" was a nice and welcome surprise. "Kaiji Ganto ~ Does Everyone Want to Swim?" was pretty unmemorable, but "Kuroshike Sasayuemon ~ The Murderous Gentleman's Pleasure" was cool. The strings were the prominent parts this time and made it more sinister and smooth. As there was a pause in the music, the orchestra members would snap their fingers. "Mystery Man Kamen Masuku ~ Listen, Pleeeeeeeease!" was so cool to hear. I think the woodwinds played the main melody here. For some reason, I wasn't really expecting this as a villain's theme.
Before the next performance, there was an intro with animated Apollo and Klavier. Klavier slams his fist against the courtroom wall and argues with Apollo. Subsequently Gyakuten Saiban 4's vocal theme "Loving Guitar's Serenade" was heard. The singer Haruka Shimotsuki dressed up like Lamiroir in a white and blue frock while Noriyuki Iwadare performed on a music box-like instrument. After they finished, the announcer came out to interview the singer and Iwadare. They joked that they couldn't have a burning guitar on stage and the singer couldn't imitate Lamiroir flying in the air! Iwadare mentioned the music box instrument was only one of a kind; he kept wondering if one of the cameras could shoot a closer view of it, but the cameras stayed where they were and the announcer had to describe it for the audience. To say the least, he was proud of it.
Conducted by Iwadare himself, "Gyakuten Saiban 3 – End" was awesome. Instead of cut scenes from the game this time, many characters were talking to us mostly to say hello and tell us what they've been up to. The first big shock/laugh was a minor character, Frank Sawhit, coming out to say hello. He said something like "Hello, remember me?" Will Powers's message was about him learning or teaching Italian and then Wendy Oldbag's message was going a mile a minute as expected. The next funny thing was von Karma; his little message was something like "This concert will over in three minutes. I'm so old, I wish the toilet was closer??" Godot's message was something like "I drank 16 cups of coffee during this concert; the last two are for the encore." The last images were of Maya, Elise, and Pearl, but I can't remember what they said.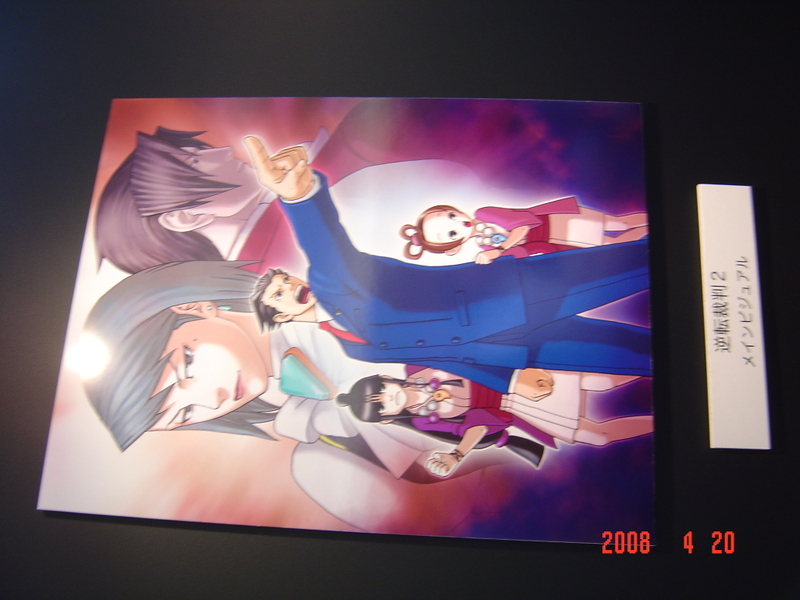 There was this photo album showing pictures of Phoenix and others used in the Gyakuten Saiban 3ending in some sort of meadow. A lone cherry blossom petal floated slowly onto the top of the photo. There was something about that imagery that seemed to evoke some sadness. Some people were getting teary eyed, I heard. Actually this was kinda of sad to me. It was like a reunion but it felt like a goodbye for some reason.
The judge fell asleep. There was a motion of the screen for us to clap so the Judge would wake up. But after a while, like three continuous minutes of clapping, my arms were getting tired and the judge still didn't wake up. The interaction with the audience was fun though. After that, there was another Phoenix and Miles court battle intro. I think they were fighting / suggesting about what to do for an encore. Miles suggests his hero's theme.
Next was "Oo-edo Soldier Tonosaman" conducted by Shu Takumi. The arrangement is the almost the same as on the CD, but I think the Japanese shamisen and koto-like instruments were replaced with another instrument in the orchestra. Just to hear it raw and live was good enough. After that, the conductor and Takumi shared a high five which got some laughter. The final piece was the classic "Ryuichi Naruhodo ~ Objection!".
After the concert, the announcer came back out with another surprise. Remember those hand-drawn artworks outside? They decided to GIVE these artworks to the attendees, who were chosen at random based on their seat numbers. Some had the cheaper A seats and some had the S seats. I think there were about 10 people total. I wasn't one of them. After the concert there were staff members all directing concert-goers to exit at certain times in order to prevent a friggin' stampede for the goods line. I was in that goods line post-concert. Most of the items were sold out by then. The CDs were still available, as was the artbook and the incredibly overpriced $60 card case. And the minute the Karintou sold out, there was an audible groan from everyone. Pretty funny.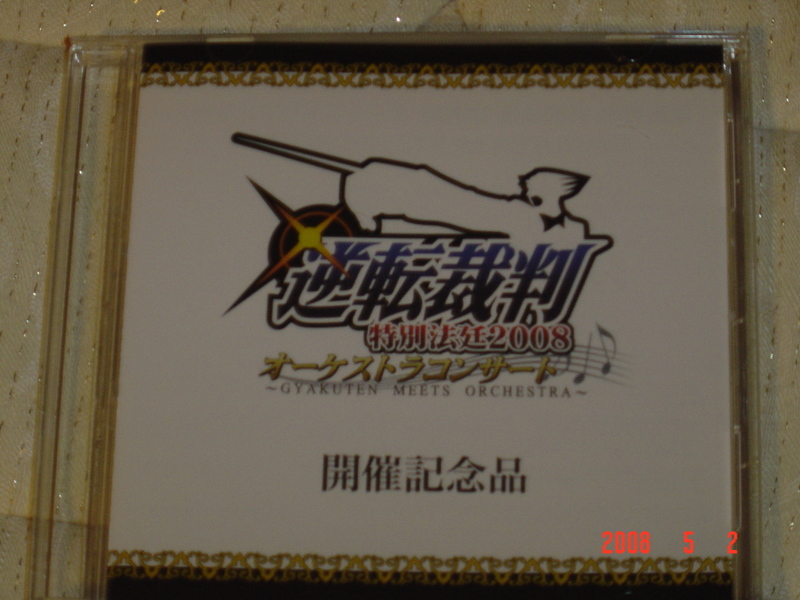 In the end, the music was fine. Some old and some new. There were a couple of nice violin solos mixed into some of the arrangements to make them fresh or creative or so. Of course, it would have been nice if they had done some newer material, but perhaps they felt they needed to have the core Gyakuten Saiban songs to tie everything together. There was a LOT of voice acting and lots of text so it might be hard for you to understand what's on the screen if you don't understand Japanese. Hopefully Capcom will be generous enough to include English subtitles on the DVD. If not, then there's gonna a lot of fansubbing, come October-November.
This event seemed to be more of a gathering and big thank you present to everyone who has loved all the games. They put in a lot of effort and went beyond what was expected for the norm of the Japanese concerts I've been to, as far as the organization, the helpful staff, animated videos, extra goodies, and so on are concerned. Capcom made a killing on the goods and whatnot. I left very satisfied and very impressed with their efforts.
Posted on April 20, 2008 by Crystal. Last modified on March 1, 2014.