Gavin Harrison Interview: Back to the SoundTracker
British composer Gavin Harrison has worked with everything from trackers to bands to full orchestras over the years. On the games front, he developed quite a fanbase through his ultra-catchy chiptune soundtracks to games such as Deep Loot, Gunslugs, and Neoteria . More recently, he has wrote the rich electronic soundtracks for Light and Halfway.
In this interview, Harrison tells us how classic video games led him to become a musician and inspired his first soundtracks. Along the way, he talks about his inspirations, audio setup, and defining works. Along the way, the article features samples of his best songs and soundtracks.
Interview Credits
Interview Subject: Gavin Harrison
Interviewer: Chris Greening
Editor: Chris Greening
Coordination: Chris Greening
Interview Content
Chris: Many thanks for talking to us today, Gavin Harrison. First of all, can you tell us about your musical background? What led you on the path to becoming a video game composer?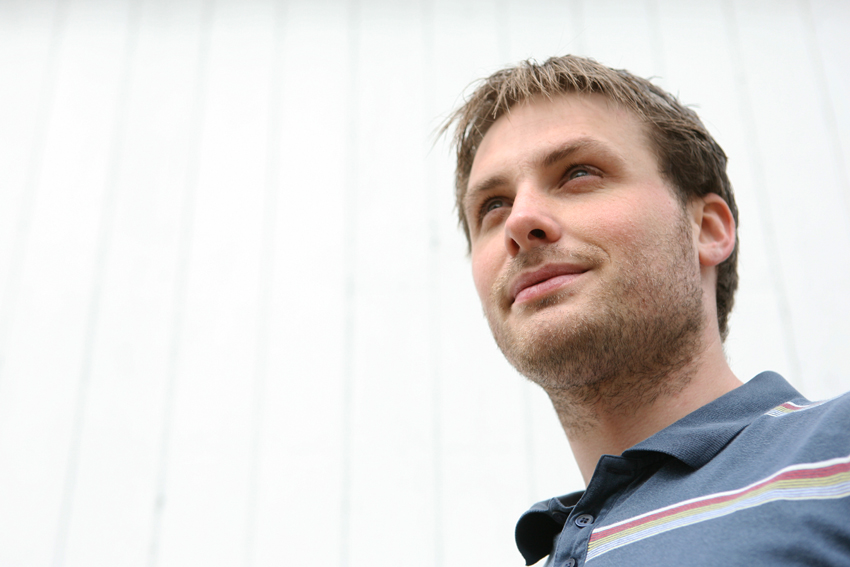 Gavin Harrison: Originally I started out with much more of an interest in the programming side of things.  I'd messed around a little bit on my grandparents piano and tried a few notes on a cheap classical guitar. But certainly at an early age, whilst I was interested in sound, that was about as far as my musical musings went!
My parents had bought a ZX Spectrum 48K when they first came out and it was on this I first started my foray into BASIC.  Later, as I was just entering my teenage years, I got my own 128K Spectrum for Christmas and at this time I also discovered the Demoscene, where people all over the world would write programs pushing the boundaries in all aspects of what the computer could do.
It was also at this time that SoundTracker, something used to create music for many of these programmes, featured on a Your Sinclair covertape.  As I mentioned before I had always had an interest in sound but I'd never dared take it any further.  However with SoundTracker I now had the ability to create music electronically on my Spectrum, eventually I even ended up building my own MIDI lead to connect my Spectrum to my first proper synth (a Roland D10)!
I played in various gigging pub bands as I headed towards my 20's but other than music A-Level and a few church organ lessons, my musical aspirations were kept on the back burner.  Sure, I was always composing, learning, doing what I could to further my musical knowledge (I taught myself how to read music from Jean Michel Jarre song books!), but being a musician wasn't a 'proper' career was it?!
Chris: What caused you change tact?
Gavin Harrison: Moving forward, about 10 years later, after several office jobs and a stint as a cleaner, I decided that actually working in audio was exactly what I wanted to do!  As I said, I was always writing music whenever I could and searching out for new songs to listen to for inspiration, but now was the time to take that on to the next step.  I'd always loved video games: one of my fondest gaming memories was playing The Legend of Zelda: Link's Awakening on the Gameboy, and the music had such an impact on me.
So with an interest in gaming, I decided I'd like to write music for games.  I came across Pascal (Orange Pixel) via the Touch Arcade forums, having already played and enjoyed his previous games.  I offered to write music for his next game (INC). However, to try and stand out from the crowd I said I'd compose it using a ZX Spectrum and SoundTracker… an authentic chip tune soundtrack!  Fortunately he agreed to give me a go and I suppose everything else has followed from there.
Chris: Over the years, you have worked on over 80 game projects mostly for casual games. Can you tell us about how you have developed this niche? How have you established and cultivated links with so many developers over the years?
Gavin Harrison: Honestly, I couldn't say!  I'm not sure I could pick any one particular moment or thing over the years that have lead to this point.  I don't think there is any particular secret formula, you have to realise that no matter how good you are at audio no one will ever know you exist unless you tell people about yourself.  It is one of the hardest things to do and I still don't think I have it right.  I do go to events, make contacts and be as involved in everything as much as life will allow.  Along the way I've met some fantastic people and made friends through working with them, as well as making friends with people who I've then go on to work with.
Ultimately being good at audio won't be enough (though it helps!). You also have to put yourself out there and at times keep a business head on too.
Chris: You initially gained the attention of fans with your ultra-catchy soundtracks for titles such as Neoteria, Deep Loot, and Gunslugs. Can you tell us about your musical inspirations for such titles? What game soundtracks or chiptune artists particularly inspired you?
Gavin Harrison: Usually I take my cues and inspiration through talking to the developers.  So for example with Neoteria it was all about capturing the Amiga / Atari ST audio aesthetic and I wanted the feel of it to be somewhat close to that of the UN Squadron soundtrack (on the SNES).  When starting Gunslug's music, Orange Pixel told me that this was all about the feel of an over the top 80's action movie.  So in my head I'm thinking any Arnie films, mixed with a little Top Gun!
In Deep Loot, each layer of the ocean has it's own theme. My main instructions from Monster and Monster were that it should feel a little darker and more claustrophobic as you dived deeper, matching the surroundings.  So as an example, the inspiration behind the initial layer was the first track from Air's first album Moon Safari.  So as you can see, I take inspiration from anywhere and everywhere.
Chris: We're interested in learning more about your workflow for these titles. Could you summarise how you developed these tracks from conception to completion? What technology did you use to create chiptunes with?
Gavin Harrison: After chatting to the developer, I'd usually start sketching some musical ideas.  These can be very rough and incomplete, but at this point I'm just looking to capture the feel — this is for me the most important aspect.  I'll send these sketches off and when the feedback comes back I start to hone everything towards the final piece.  Sometimes you'll get it right first time with the initial idea, other times it can take a few goes and a lot can depend on your relationship with the developer and how you interpret their ideas.  I'll always make my own suggestions too and sometimes you'll find you'll end up something completely different to what you were expecting to work!
Technology wise, those soundtracks were all done using Logic, though I have to say more recently I find myself using Pro Tools more.  It's audio editing is second to none and generally it seems to fit my workflow better.  Chipsounds from Plogue is a huge tool in my arsenal when writing chiptunes.  I also find some of the old analogue synths can create fantastic sounds for the genre, I think the Polysix has to be one of my favourite tools here.  Deep Loot was a blend of old / new sounds, so alongside the more digital stuff I was quite pleased to get my Mark 1 Rhodes onto the soundtrack!
Chris: The chiptune scene has exploded in recent years. What do you make of this phenomenon? Are you interested in making your own chiptune albums or performances, or do you prefer to focus on creating soundtracks?
Gavin Harrison: I think, like any musical genre, there will be peaks and troughs with regards to popularity.  When I was first writing music using SoundTracker on the Spectrum, it was music first and foremost that I was interested in creating.  The fact that it was being sent through an AY chip capable of three channels with limited sound was just the way it was.
To me the real skill with chiptune music were the limitations imposed.  If you wanted to play a full chord, there's all your three channels used up.  So to imply harmony you could create very fast arpeggios, quickly playing each note of the chord in sequence and therefore still leave two channels free for other uses.  A lot of musical genres wouldn't exist had it not been for advances in technology, but writing chiptunes was always about creating a good melody, music that could be repeated and never get boring.  I think those are things that are always going to be popular!
I would never rule out a standalone chiptune album or performance, but right now I'm happy creating soundtracks and contributing to an overall experience.  I have always had this dream of writing a synth dystopian type album though… one day!
Chris: One of your latest game soundtracks, Light, shifts away from chiptunes in favour of a beautiful electro-acoustic sound. Could you tell us about what inspired this sound? How does it complement the visuals of the game?
Gavin Harrison: I had a lot of great discussions with Just A Pixel, the team behind Light.  We'd send each other great tracks we thought were a good inspiration and then often just end up chatting for ages about music in general.
Overall the feeling was to have something heavily electronic with a lot of glitch stutter type elements to match the digital feel of the visuals.  It also just so happened that around the same time I started on the Light music I began my foray into buying old analogue synths, so you can hear my Juno 106 all over the soundtrack!
Chris: The sounds of Light are top-quality. Can you tell us how you have achieved this? What hardware, software, and performers help bring the music to life?
Gavin Harrison: As I mentioned the Juno 106 was used extensively across everything.  It was a great time of getting to know a new synth and having a project to instantly put it to use on.  I think also around the same time I began working on the music for Halfway so you can hear quite a lot of Juno on that too, particularly the main theme!
The album version of the title track from Light has vocals from the superb Rachel Dey, who was a pleasure to work with.  I sent her the initial track to which she put some vocals to, I then went back and rearranged the backing to suit the lyrics better, and the rest is history!  I've worked again with her since for the 'Future Sense' title track and again, I think her vocals are superb.
As for the sound effects, whilst I completely agree they are top quality, I didn't supply them!
Chris: Looking back at all your game projects over the years, it'd be interesting to hear about your favourites. What were the highlights for you and why?
Gavin Harrison: Ooooo I couldn't possibly pick a favourite, could I?!  Hehe!  I can genuinely say I enjoy every project. However, I think the ones I find most fun are the projects that push me into a new territory.  So for example I've just been asked to write music for a new game recently, and it's in a style I've never attempted before.  I find this enjoyable for two main reasons, one being that I have to learn some new skills, the other being that I now get to listen to a lot of music as reference that I wouldn't have otherwise heard.  And I love listening to new music!  This also happened when I was asked to write a piece of music for the Charnel House Trilogy, "Gloria's Final Ride".  It was a sort of 60's / 70's prog rock piece that I even managed to get some of my own vocals on!
Halfway was a great title to work on as Robotality gave me a few pointers at the beginning then trusted my own skills as to what I would bring to the project.  I think the soundtrack to that game became an essential part of the atmosphere, even the story, and for that I'm very proud of it.
If right now I had to pick one of my favourite songs I've written for a game, it would be the Future Sense title track…It incorporated a lot of different elements including live singing, guitar and drums and was just great to work on, I didn't want it to finish.  However, if you asked me tomorrow what my favourite song was, it would most likely have changed!
Chris: Your music has also featured on a wide range of television programs over the years, ranging from Panorama and The One Show to Hollyoaks and Geordie Shore. Has this been achieved through making music libraries or do you also do independent commissions too? Looking back, what are you most proud of?
Gavin Harrison: This has all been done a music library called Audio Network, though that's not to say I'm not open to doing independent commissions!  Proudest moment here would be recording "Enemy" in room two at Abbey Road — both the strings and the brass were done there.  I can honestly say nothing compares to having an orchestra play something you've written and to record it at Abbey Road.
I have further tracks to be released with Audio Network and I can honestly say it's a fantastic thing to do, it's always a pleasant surprise when you're watching TV and recognise one of your own pieces of music being played.
Chris: You're also active as an independent composer and remixer. Can you tell us about this work? In particular, what was it like to produce the EDM album Changing Everything: What Birds Dream with Jeff Caylor?
Gavin Harrison: That was great fun, though it feels like a long time ago now!  I was still working an office job and producing music in whatever spare time I had.  I met Jeff through an online music forum (KVR Audio) and we just sort of hit it off.  We worked on one track together (called Perspective) and then he gave me the chance to completely remix his next album.  The two different albums were released at the same time; I am to this day exceptionally proud of it and can't thank Jeff enough for giving me the opportunity!
I have also written some original pieces and worked on some remixes under the name 'Gridlocked' for the Silk Music record label, these are all available on Beatport here. I really enjoy being able to do this sort of work as it allows me to work with other musicians and to take a step into a different area of musical work.
Chris: Many thanks for your time today, Gavin Harrison. Is there anything else you'd like to say about yourself or your works? Do you have any messages for your fans around the world?
Gavin Harrison: Fans?  If I have any fans out there then thank you for your support!  Also I should probably take this opportunity to mention that I am not the drummer from Porcupine Tree.
Posted on March 6, 2016 by Chris Greening. Last modified on March 6, 2016.