Game Music Bundle offers seventeen soundtracks for 10 USD
Over the next two weeks, Game Music Bundle 7 and Loudr are offering seventeen soundtracks for a greatly-discounted price. For a price of just 10 USD, listeners can download the complete soundtracks for titles such as Peter McConnell's Broken Age, Ian Stocker's Escape Goat 2, Daniel Olsén's Device 6, and Chris Rickwood's Tribes: Ascend. In addition to offering The Banner Saga, Grammy-nominated artist Austin Wintory is making his short score for the Ouya's Soul Fjord and Journey piano album Transfiguration exclusively available with the bundle. The full list of albums on offer as a part of Game Music Bundle 7 are as follows:
Level 1 (unlocked at $1)

– The Banner Saga (Austin Wintory)
– Device 6 (Daniel Olsén)
– Broken Age (Peter McConnell)
– The Floor is Jelly (Disasterpeace, Ian Snyder)
– Luftrausers (Jukio Kallio)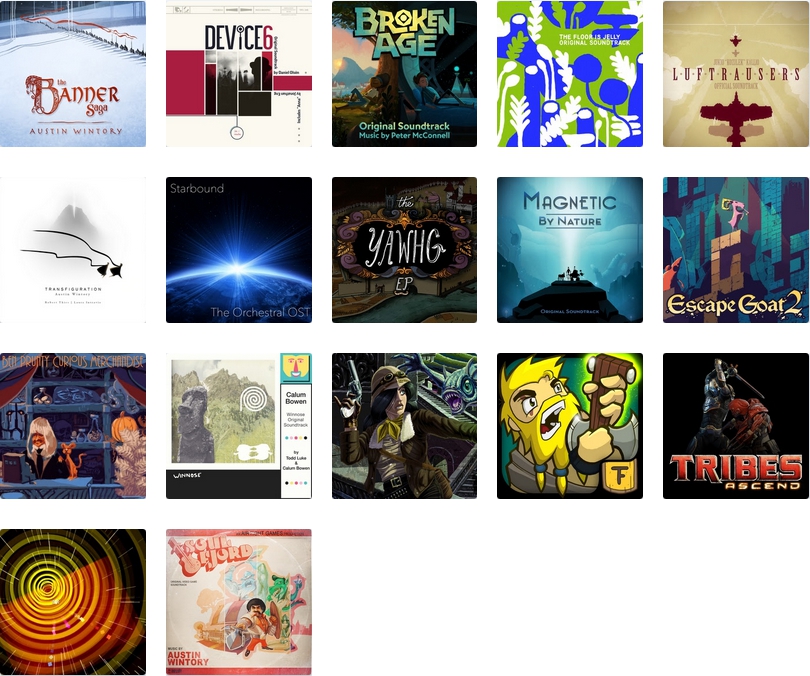 Level 2 (unlocked at $10)

– Transfiguration (Austin Wintory)
– Starbound Orchestral (Curtis Schweitzer)
– Yawhg (Ryan Roth)
– Magnetic By Nature (Lance Montgomery)
– Escape Goat 2 (Ian Stocker)
– Curious Merchandise (Ben Prunty)
– Eldritch (David Pittman)
– Winnose (Callum Bowen, Todd Luke)
– Bardbarian (Maximum Satan)
– Tribes: Ascend (Chris Rickwood)
– Into the Box (Talha Kaya, Doğaç Yavuz)
– Soul Fjord (Austin Wintory)
Leader rewards
At the close of the bundle, top contributors who have earned a spot on the leader board will be
awarded physical prize packages, which include albums signed by the composers, a signed
excerpt from The Banner Saga orchestral score, full-color prints from the game Broken Age and
other surprises.
Posted on April 18, 2014 by Chris Greening. Last modified on April 18, 2014.