Distant Worlds – Music from Final Fantasy: Stockholm, December 2007
On December 4, 2007, I attended the world premiere of Distant Worlds – Music from Final Fantasy at the Stockholm Concert Hall. First, I have to say, this was the best musical event I've ever been to, and one of the best days in my life. The whole day had been fantastic, and when it came to the actual concert I was overwhelmed by it. The atmosphere before the concert was very nice, I talked with lots of people and I made sure I was one of the first buyers of the merchandise and CD (I was going to make the first CD sold mine, but I only managed to get the fifth in the queue). I bought the CD and the hawt T-shirt. I didn't buy the poster because I don't like them anyway.
Sitting there in my seat, waiting for the orchestra to come out and the concert to begin, I saw this little man with black hair, a moustache, and glasses coming in through the door, taking a seat two rows below me. "Hey, wait a minute… Isn't that… Uematsu??". Yes indeed, it was the one and only, Nobuo Uematsu. So that meant I got to enjoy the concert literally with Uematsu himself. Could you have more luck than that? (Maybe if you sat on the same row as him I guess).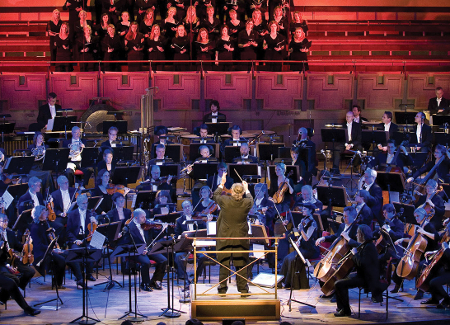 I can't find words for how great the concert was. Everything, simply everything, was perfect. The symphony orchestra, the soloists, and the great conductor Arnie Roth couldn't have done it much better. I seriously had constant goosebumps through the first half of the concert, because it was so good. The video clips they had put together timed surprisingly well with the actual music and totally brought up the total experience with in game videos/CG videos and artwork. Like when they brought up an ingame video from Final Fantasy VIII and they ran around till they got into a random encounter, and BAM, "Don't be Afraid" started up.
All arrangements were superb, and it's hard to tell which were my favorites. The "Maria and Draco" opera was great, "Love Grows" was great, "Fisherman's Horizon" was great, "Aerith's theme" was great, "Tina" was great, "One Winged Angel" was great. What the heck, everything was great.
And then I got to meet Uematsu and Arnie Roth after the concert! It felt so unreal meeting Uematsu so I didn't really know what to say. I had thought up a lot of things to say but when it came to it I didn't say that very much except thanking him for the great concert and asking him to sign my stuff. But I don't regret it that much, as I got to shake his hand and got to take a picture with me and him. I also spoke with Arnie Roth, and as he is fluent in English it was also easier to get through to him and bring up a discussion.
I purchased the CD for the event. I got both Uematsu and Roth's autographs on the CD and the concert tickets. The CD is the best of all orchestral versions of the Final Fantasy songs in my opinion so I recommend you to get it if you're a die hard Final Fantasy fan/VGM fan. If you weren't there, you really really missed something. I pity all you people who couldn't be there that magical evening.
Do you agree with the review and score? Let us know in the comments below!
Posted on December 4, 2007 by Nanaman. Last modified on March 1, 2014.