Details and samples of the latest Final Fantasy XIV soundtrack Blu-ray
On June 7, Square Enix will release The Far Edge of Fate: Final Fantasy XIV Original Soundtrack. Retailing at 5400 JPY, the Blu-ray disc includes 50 pieces of music featured in the 3.2, 3.3, 3.4, and 3.5 patches of the game, as well as a couple of bonus tracks.
The majority of the new music is created by the MMORPG's sound director Masayoshi Soken, with assistance from arrangers including  Yukiko Takada, Ken Ito, GUNN, Yoshitaka Suzuki, Kenichi Kuroda, and Sachiko Miyano. The album also features reprises of Nobuo Uematsu's tracks for the original version of the game, a couple of classic arrangements from Soken (FFIV's "Dancing Calcabrina", FFVI's "Battle to the Death"), and a surprising trio of adaptations of Tactics Ogre from the Basiscape team themselves.
The track listings for the core soundtrack are below. The Blu-ray also includes the bonus track "Scale and Steel 5.1 (Sound Orchestra ver.)" and a recording of the "Final Fantasy XIV Fan Festival 2016 Special Live Stage" featuring piano and band performances. Those who purchase the initial print will also receive a cute bonus: a Nidhogg minion.
The Gears of Change (Patch 3.2)
Fiend
Down the Up Staircase
Dancing Calcabrina
Piece of Mind
No Sound, No Scutter
The Kiss
Starved
The Ancient City
Metal Brute Justice Mode
Battle to the Death Heavensward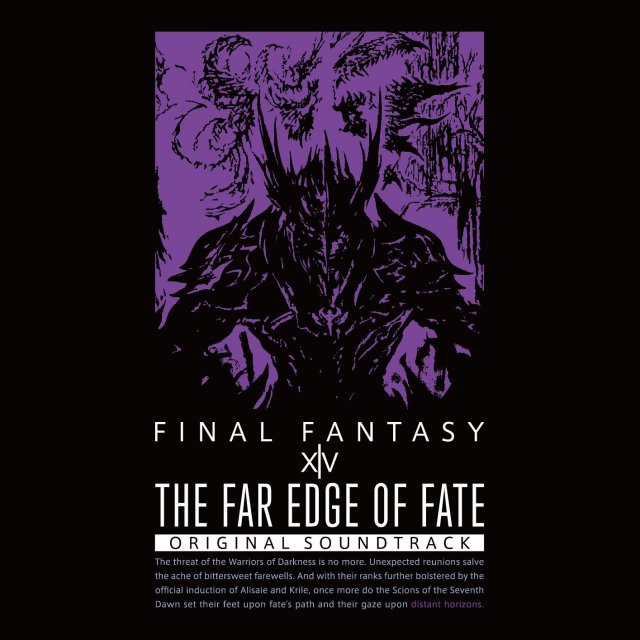 Revenge of the Horde (Patch 3.3)
Holy Consult
Apologies
Faith in Her Fury
Primogenitor
Freefall
Revenge of the Horde
Only the Dead
Freedom
Teardrops in the Rain
Torrent
A Thousand Faces
Blackbosom
The Merry Wanderer Waltz
Emerald Labyrinth
Enraptured
Tears for Mor Dhona
Hyper Rainbow Z
He who Continues the Attack
Soul Surrender (Patch 3.4)
Revenge Twofold
Fog of Phantom
Notice of Death
Blasphemous Experiment
The Gauntlet
Up at Dawn
Grounded
Bibliophobia
Exponential Entropy
Out of Time
Moebius
Stasis Loop
Rise
Fragments of Forever
Equilibrium
The Far Edge of Fate (Patch 3.5)
Promises
Shadow of the Body
Quicksand
Penultimania
Infinity
Another Brick
The tracks can be sampled at the official site. The soundtrack marks the fifth soundtrack release for the series following Before Meteor, A Realm Reborn, Before the Fall, and Heavensward. It is likely that Square Enix will also eventually release a soundtrack featuring the music of the game's imminent second expansion, Stormblood, but details have yet to been announced.
Posted on April 21, 2017 by Chris Greening. Last modified on April 21, 2017.